Space around the vehicle
The space around a vehicle can enable or limit access to a charging unit. While you should refer to PAS 1899:2022 for specific dimensions, here we tell you what space people need and why.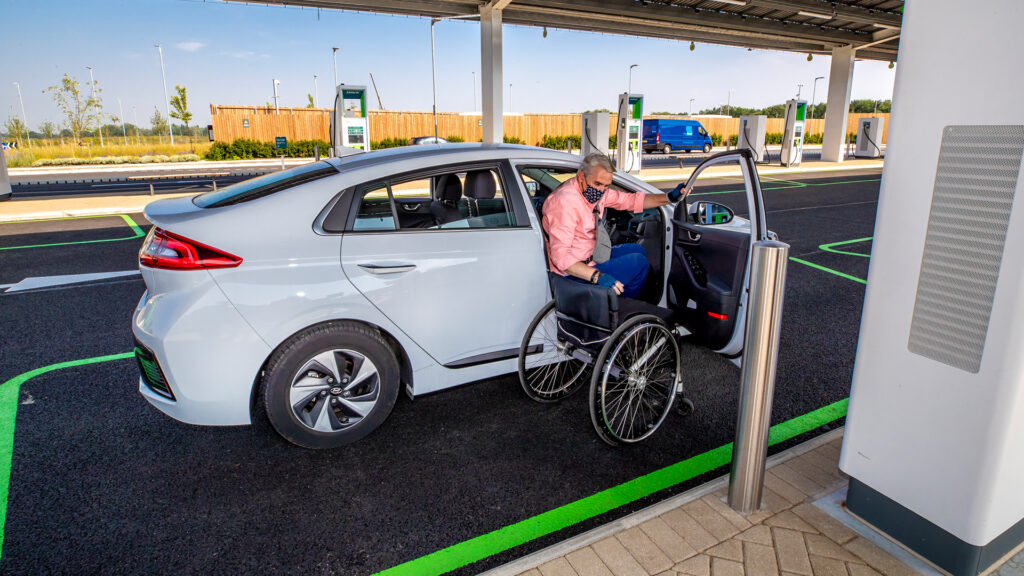 Space at the sides of a vehicle
Make sure users have space to open their driver and passenger doors fully.
This will allow drivers and passengers with reduced mobility to straighten their legs when getting in and out, to have enough space to help passengers (adults or children) in and out, and to have enough space to move along the sides of the vehicle.
"I look for a wide enough space so I can get my door fully open, as I have a bit of trouble getting in and out of the car"
Some adapted vehicles need space along the side so that the user can get in and out using ramps or lifts.
Some users will need to open doors on both sides of the vehicle on the same occasion. For example, a disabled driver may need to get out of the driver's door, and then have enough space to manoeuvre around to help a child out of a passenger door on the other side of the vehicle.
"All of the chargers near me are in single parking spaces and on the driver's side there is a kerb and a verge, so I always have to have someone with me as I can't fit my wheelchair (or even crutches, if I'm having a good day) past the car"
Parking next to a kerb can create an extra barrier for those who cannot easily step or transfer from their vehicle onto the pavement.
"I have to park my car away from the kerb so I can stand between the car and the pavement – then my passenger is right in the traffic flow"
Space at the front and back of a vehicle
Ideally provide protected space at the front and back of the vehicle at the same time.
For example, a user may need to park their vehicle with the front charging socket close to a charging point leaving enough space to access the charging unit, and still have enough space to get their wheelchair out of the boot while being protected from moving vehicles.
"People park close to my boot when I am out shopping, then I can't get my scooter back in the boot"
It is important that protected space around the vehicle is clearly marked so that drivers do not park in it.
Wheelchair Accessible Vehicles
Larger Wheelchair Accessible Vehicles (WAVs) may require extra space around them for ramps and lifts (see our page on Adapted vehicles for disabled people).
Some people may need specific charging point provision for larger vehicles, which could include making use of void space on the end of a row of spaces. Refer to PAS 1899:2022 (opens in a new window) for detailed space requirements.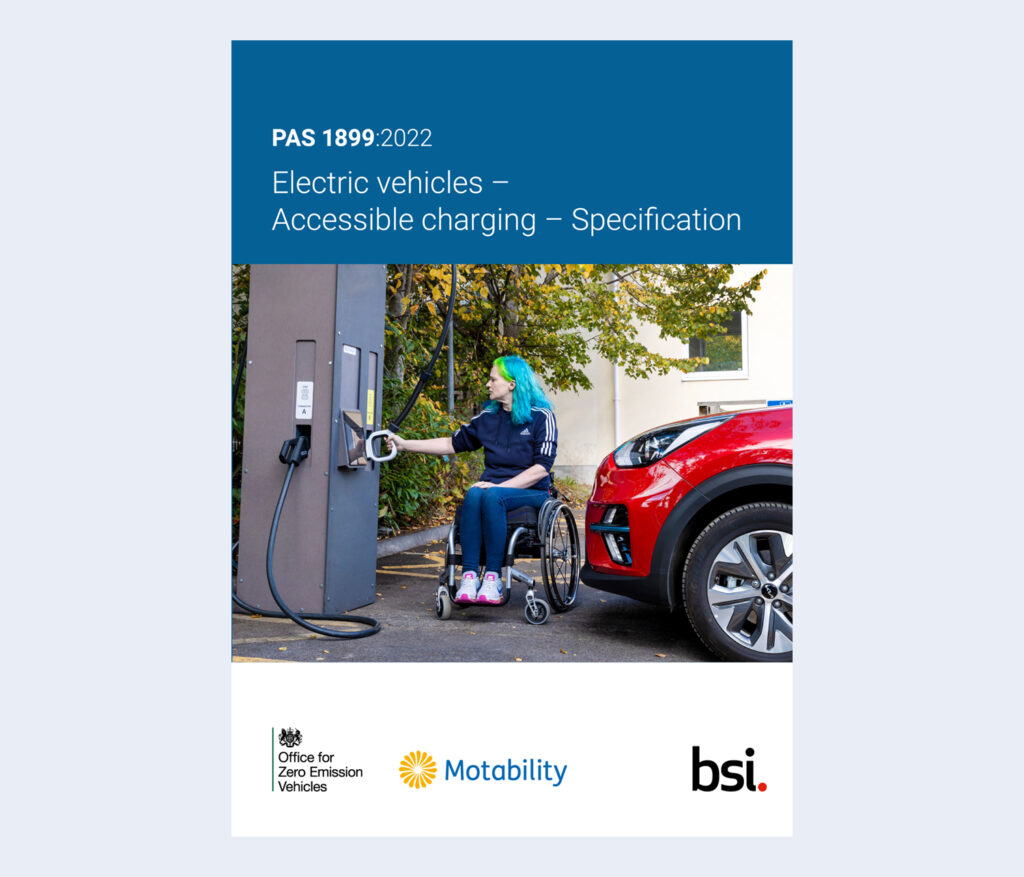 The new standard for accessible EV charging
Take a look at the requirements and recommendations set out in PAS 1899:2022 Electric vehicles – Accessible charging – Specification
Explore our case studies
Our case studies have been drawn together from first-hand accounts that were shared with us by disabled people and those close to them. Each story is made up of insights from several individuals, to share as much of our research as possible and to illustrate the impact of good and bad design on real people.
Download the design guidance
Our design guidance covers signage and information, the built environment and charging an electric vehicle.